As the weather warms up, we tend to do more activities outdoors with our canine companions. However, it is very important to ensure their safety, as well as ours, especially when we're riding in the car with them. 
For most dogs, a car ride is one of their life's exhilarating experiences, but for others, it may be a nerve-wracking ordeal. As Santa Barbara County's top auto collision repair shop, we need to ensure that you and your furry friend are both safe on the road.
Dogs and Car Accidents
Most dogs—unless you have a colossal Great Dane as a dog— don't usually outweigh a human. This means the force generated in a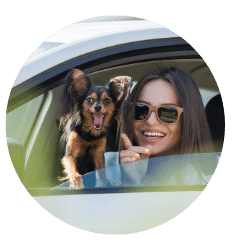 car crash is relatively small as well, isn't it? Actually, that's not usually the case. A car crash at 30mph will cause an 80-pound dog to become a 2,400 pound-flying projectile. In simple terms, that force of impact is enough to kill both the dog and the driver.
Of course, smaller dogs (think Teacup Chihuahuas and Yorkshire Terriers) will obviously generate less force, but even a minuscule pup that's below 5 pounds will fly through the air so quickly and most likely not survive the impact. Car accidents can happen anytime and anywhere, so it's quite easy to find yourself in such a situation. This is why it's important to ensure your dog's safety when riding a car to prevent untoward accidents.
Ensuring Your Dogs Safety When Riding a Car
Whenever your dog is tagging along for a car ride, their safety must also be your priority. When you care for your dog's safety, you'll be able to drive safely and peacefully with no distractions. Keeping your dog on your lap or letting your dog roam freely inside the car is a huge no-no as it can distract you or the one who's driving. Here are some tips on how to ensure your dog's safety when riding a car.
1. Put smaller dogs in a crate.
If you have small dogs, you can simply place them in a crate and secure it to the seat. This way, they can still get the excitement from the car ride, while being taken care of in the event of a car accident. Also, if you own multiple pets, unless they are very small or are very friendly with each other, you may need to place them in separate crates.
2. Restrain big dogs. 
Big dogs such as Labradors, Rottweilers, German Shepherds, and the like should be safely restrained using a dog seat belt. In case you're unfamiliar with them, dog car seat belts attach a dog harness to a strap with a buckle that fits in the regular seat belt of a vehicle. This special seat belt won't only keep them in place during the drive, but also prevents your dog from becoming a flying projectile if there is a crash.
3. Section off huge dogs.
Some dogs are simply too big to buckle them on the seat. If you have a massive dog like a Great Dane or a Saint Bernard, it's best to safely section them off in the back of the car (not the trunk) so they won't pose a risk to the driver.
Traveling with Other Pets
When traveling with other pets such as cats, birds, fish, or reptiles, it's also important to be mindful of their safety. Here are some
general safety guidelines when traveling with a pet:
1. Never let your pet roam freely inside the car. Always secure them in place to prevent them from distracting the driver. It's a good idea to get your pet used to the crate or dog seat belt before your trip to prevent them from throwing a tantrum.
2. Use a plastic box or a styrofoam container when transporting your aquatic and terrarium-living pets. Doing so can help prevent shattered glass inside your car, which can cause further damage.
3. Do not let our pets unrestrained in an open back of a vehicle. Your pet can jump out of your vehicle, which can get them seriously injured or killed.
Precision Auto Body & Painting for Auto Body Repair in Santa Barbara County
Car accidents suck, but the repair process doesn't have to. If you recently got into a car accident with your pet, you can bring your vehicle to Precision Auto Body & Painting to have it repaired. With our up-to-date repair procedures and highly-trained technicians, you'll surely have a stress-free car repair experience.
About Precision Auto Body and Painting: Since 1987, Precision has been Santa Barbara's leading full-service auto body repair and painting company located at 57 S Fairview Ave. Goleta, CA 93117. They offer assistance with color matching, dent repairs, major collision repairs and are the only auto body repair facility in Santa Barbara Country to be auto body shop certified by Tesla and Mercedes-Benz USA as well as the BMW of North America. Additional assistance is provided with car rentals, towing, and insurance. Follow on Facebook for exclusive offers available only to our Facebook fans. Call 805-683-4711 for an estimate.