Constant exposure to the elements can make your vehicle's paint wear out over time. The best way to prevent car paint from wearing out faster than usual is to protect it from unnecessary damage. While keeping it out of the direct sunlight can help it last longer, there are a number of smart ways to avoid major damage to your car's paint. Here are some of the top five culprits of paint damage that you should avoid:
1. Bird Poop Can Damage Your Car Paint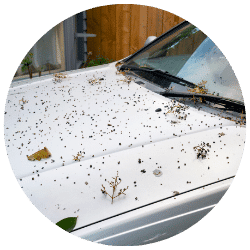 Apart from being an eyesore, bird droppings are detrimental to your vehicle's paint. Bird poop is highly acidic and if left in contact with the vehicle's paint, it can seep through your paint's protective coating and cause damage. If you notice some bird droppings on your vehicle, it's highly recommended to wash them off as soon as possible to prevent further damage to your car paint.
2. Soda and Automobile Paint
Most drivers have this nasty habit of drinking soda with their hand sticking out of their car window. Did you know that even a tiny drop of soda can dribble out the side of the can and stick on your vehicle's paint? Soda has a pH level of about 2.3, which is highly acidic. If you don't wipe it off immediately, it can discolor your paint job and cause an unsightly stain.
3. Motor Oil Acts Like Paint Thinner On Car Paint
While motor oil would probably be the last thing on our mind when we think of paint damage, it sure does affect a car's paint job if not careful. When we drive every day, tiny bits of motor oil leaks from other vehicles and can splash to our own vehicles, ruining our paint job. Apart from that, oil from the road or road grime, can also act as a paint thinner and cause damage to your vehicle's paint. If you happen to notice tiny splotches of grime on your car's exterior, better get it cleaned off as soon as possible.
4. Gasoline Strips Off Protective Coating From Car Paint
There are times when we tend to overfill our gas tanks in the hopes of getting just a little more in there. Obviously, gas will overflow and drip down the side of the vehicle. While you may think it's not a big deal as it can be dried out, the actual contact of the gas to the paint and the actual drying or wiping process will cause even more damage to your car paint job. Gasoline basically acts as a stripping agent or a degreaser. Frequent contact with your car's paint can actually strip off its protective coating and color. If it happens once or twice, then it may not matter much. However, if you overfill your tank on a regular basis, the damage on your paint will be more and more noticeable. Avoid overfilling your tanks as it can really affect your vehicle negative both in the exterior and your engine.
5. Crusted Ice Can Chip and Crack Car Paint
While snow isn't much of a concern in Santa Barbara and nearby counties, it's important for you to know that freezing and melting water droplets can have detrimental effects on your vehicle's paint. Water can defrost and freeze on your car's surface during the winter months and this can get through your car's little chips, cracks, and scratches, causing further damage. Make sure to park your vehicle in a covered area where ice can fully melt and drip off. Keep that in mind when driving to some of Southern California's ski escapes like Big Bear, Mountain High, and Mammoth Mountain. 
Precision Auto Body & Painting Protects Your Car Paint
Paint wears out over time, but even if it hasn't reached that point yet, you can always come to Precision Auto Body & Painting for auto detailing and paint touch-ups to keep your vehicle in the most pristine shape possible. 
About Precision Auto Body and Painting:  Since 1987, Precision has been Santa Barbara's leading full-service auto body repair and painting company, located at 57 S Fairview Ave, Goleta, CA 93117.  They offer assistance with color matching, dent repairs, major collision repair, and are the only autobody repair facility in Santa Barbara County to be autobody shop certified by Tesla and Mercedes-Benz USA, as well as the BMW of North America. Additional assistance is provided with car rentals, towing, and insurance. Visit the site to download the infographic "Most Popular Car Colors".  Follow on Facebook for exclusive offers available only to our Facebook Fans. Call 805-683-4711 for an estimate.