Let's face it, most of the car accidents that happen in the country aren't like the massive wrecks and crashes we see in the movies. Majority of car accidents are simple fender benders, which usually happen when someone isn't paying attention on the road and bumps into another vehicle. In most cases, nobody usually gets hurt and the vehicles simply sustain what most people consider as minor damage.
These "minor damage" or fender benders, as they are often referred to, are dismissed as low impact or low damage crashes (mostly by car owners who don't have insurance to cover the damages). But, here's the thing—most of these fender benders aren't always as minor as they may seem. It may look like your vehicle has only incurred minor damage, but in reality, it has already sustained major damage hidden from the naked eye. Here are the top five signs that indicate your collision damage is more serious than you think:
1. Damage on Bumper
Your car's bumper is designed to withstand the impact in an event of a car crash. Although older vehicles were equipped with bigger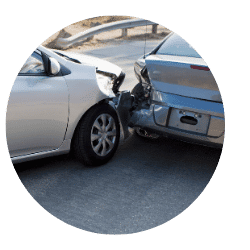 and stronger bumpers, it was found that this design only transferred the impact to the rest of the vehicle, including the passengers, and eventually caused more damage. Even a small fender bender can damage your bumper, making it less effective if ever you get into another collision. 
2. Damage on Frame
If your car is hit from the right angle, any speed above 2mph—or the average speed of a human walking— is enough to cause frame damage. A bent frame can have a negative effect on your vehicle's performance and can even cause your tires to wear out prematurely. To cut the story short, frame damage won't allow your vehicle to function optimally.
3. Engine and Fluid Issues
If you bump into a car from behind, it may seem like no major damage has been sustained. However, car damage is usually hidden from the naked eye. For example, a minor issue such as a small leakage in the radiator can take some time to manifest problems, but the end result can be as serious as a blown engine. Even a small impact can knock your engine enough to affect its normal function. 
4. Wheels and Alignment Issues
With or without sustaining damage to your car's frame, your wheel alignment will definitely get affected after a collision. This can cause your car to pull to one direction and cause your tires to wear out faster. If left unaligned, your car will become more and more dangerous to drive and can result in a much worse accident.
5. Electrical Issues
Vehicles are usually designed with the wiring placed right behind the panels. In an event of a car crash or a collision, problems usually occur where the wiring connects, often resulting in loose or broken connections. Unfortunately, you can only do so much to determine if the wiring is shorting out—aside of course from dismantling the panels and visually inspecting each wiring. If you notice that your battery is conking out, your lights are getting dimmer than usual, or some of your car's electronic features suddenly malfunction, it's time to get things inspected.
Precision Auto Body & Painting has been consistently voted as the best auto body and paint shop by Santa Barbara News-Press readers and we aim to live up to that reputation with every repair. If you've been in a minor crash, simply bring your damaged vehicle to the best auto body repair shop in town and we'll bring it back to its tip-top shape in no time.
About Precision Auto Body and Painting: Since 1987, Precision has been Santa Barbara's leading full-service auto body repair and painting company located at 57 S Fairview Ave. Goleta, CA 93117. They offer assistance with color matching, dent repairs, major collision repairs and are the only auto body repair facility in Santa Barbara Country to be auto body shop certified by Tesla and Mercedes-Benz USA as well as the BMW of North America. Additional assistance is provided with car rentals, towing, and insurance. Follow on Facebook for exclusive offers available only to our Facebook fans. Call 805-683-4711 for an estimate.